1. It exists, people! It totally exists!

2. The new DW companion has been announced:
Jenna-Louise Coleman
. She's incredibly adorable and talks faster than Matt!

It's time to get to know our new companion.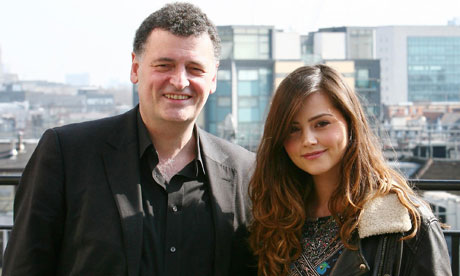 Getting to know all about you,
Huggingtonpost - 'Doctor Who': Jenna-Louise Coleman Is The Newest Companion
Jenna-Louise Coleman joins Doctor Who: 'not the usual boy meets girl'

Here's some stats from
radiotimes.com
:
Age: 25
Height: 5ft 2in
Hometown: Blackpool
Lives: Leeds
CV:
Emmerdale - Jasmine Thomas (2005-2009)
Waterloo Road – Lindsay James (2009)
Room at the Top – Susan Brown (2010)
Captain America: the First Avenger - Connie (2011)
Dancing on the Edge - Rosie Williams (2012)
Imaginary Forces - Ellen (2012)
Titanic - Annie Desmond (2012)
Awards: Nominated for best newcomer at the 2006 British Soap Awards
Nominated for most popular newcomer at the 2006 National Television Awards
Nominated for best dramatic performance at the 2009 British Soap Awards
Biography:New Doctor Who companion Jenna-Louise Coleman is best known for appearing in Emmerdale and Waterloo Road. Born in Blackpool, the 25-year-old has been acting since she began applying for a place at drama school in 2005, when she was spotted by Emmerdale's producers and given the role of Jasmine Thomas in the soap.
Her performance in the drama, which saw her murdering her on-screen boyfriend and embarking on a lesbian affair, earned her best newcomer award nominations in 2006 and saw her tipped for best dramatic performance at the 2009 British Soap Awards. In the same year, she left Emmerdale and took a role in the BBC1 drama Waterloo Road, set in a school.
Leaving after making appearances in nine episodes, Jenna-Louise then began working in films, appearing in a TV adaptation of John Braine's Room at the Top in 2010, and then landing a role in the Hollywood blockbuster Captain America: The First Avenger in 2011.
She'll soon be seen playing "cheeky little cockney" stewardess Annie Desmond in Julian Fellowes's Titanic, which will begin screening on ITV1 from Sunday 25 March, and has also filmed her part in Dancing on the Edge, an upcoming five-part Stephen Poliakoff series for BBC2.
3. We've also had this bit of news from Steven Moffit: